Hello everyone, happy 2019, and welcome to the first post on my brand new website! 2019 is the year that I graduate from Mount Holyoke College with a bachelor's in physics and astronomy, so it goes without saying that this is a big year for me. With this major life event quickly approaching, there are some things that I want to do and goals that I want to set for myself in order to feel more ready for my post-college life, and to improve myself as a person. At the time that I am writing this blog post, I do not have any immediate post-graduation plans, however the life goal I currently have that will become my main focus for the year is to get in to graduate school in order to pursue a PhD in physics. My purpose for getting a PhD is to gain the ability to achieve my goal of becoming a physics professor, a career that would allow me to conduct research as well as educate the next generation of physicists.
I do have a few smaller goals for this year as well as this bigger one such as improving my budgeting skills, making more time for reading and doing art, and becoming more organized and efficient. In the recent past, my main tool for keeping myself organized has been my bullet journal which I believe has been very helpful, however there's always room for me to improve my methods. With this in mind, one of my smaller tasks for this year is to optimize my bullet journal by improving my layouts, making it as useful and versatile as possible, and maximizing the efficiency and frequency of its usage. What I find most powerful with the bullet journal is that it can become a personal hub containing all of the information I need on everything I do. Another one of my favorite things about it is that it's completely customizable, so I can organize it to fit any of my needs, and change it when one or more of my strategies isn't working. One thing I will be sharing on this website is images of my bullet journal, and thoughts on how useful it has been and ways that I can improve it. I have already finished a few pages in my bullet journal for 2019: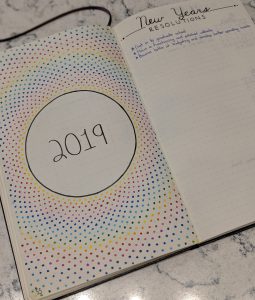 Above are the first two pages I have for the new year. On the left I made a colorful title page to bookmark the beginning of 2019, and on the right I have a page for my goals and resolutions for the year. I'm pretty happy with how the title page came out, however I didn't really plan it out before starting it, and I wish that I made the center circle a little smaller to have more room for the colors.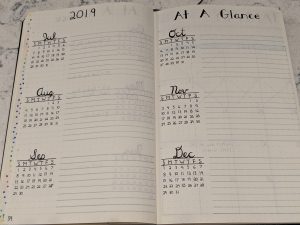 The image above shows what my future log for 2019 looks like. On the left of the pages I have miniature calendars for every month where the important dates will be highlighted, and the right of the pages has space for writing the descriptions of the important dates. The pages for the first half of the year are plagued with ink smudges, so I'm showing the second half since it looks a lot nicer.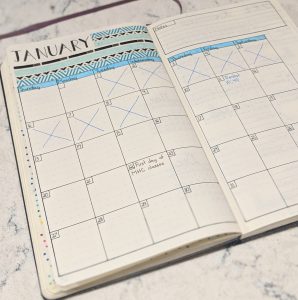 Above is the monthly page for January, the first one of 2019. My monthly pages have recently been looking like this, with the calendar taking up most of the space and being the center piece, and some space at the top right for notes. One thing I like to do is assign a color for each month, which is used on the calendar, as well as all of the weekly pages for that month. January has been assigned light blue. On the far right side of the page, I have a little bit of blank space which isn't being used for anything yet. There's not a lot of space there, so for this month I probably won't do much more than adding some extra decorations. However, I may increase the size of the space in order to include something else on my monthly pages if I feel that there's something missing.
Another goal that I have for the coming year is to put a considerable amount of work into this website, and to have it functioning and polished by the end of the year. This website will hopefully serve a couple of purposes. One purpose is to document and track the progress made on my other goals. Another purpose of this site is to explore some of my interests in science, and to enhance my communications skills. My hope is that by becoming a better communicator in physics and science, I will be able to teach the students of these areas more successfully, and feel more confident when I begin my role as an educator.
I hope that everyone has had a great start to the new year, and remember to check back on this website for more posts!