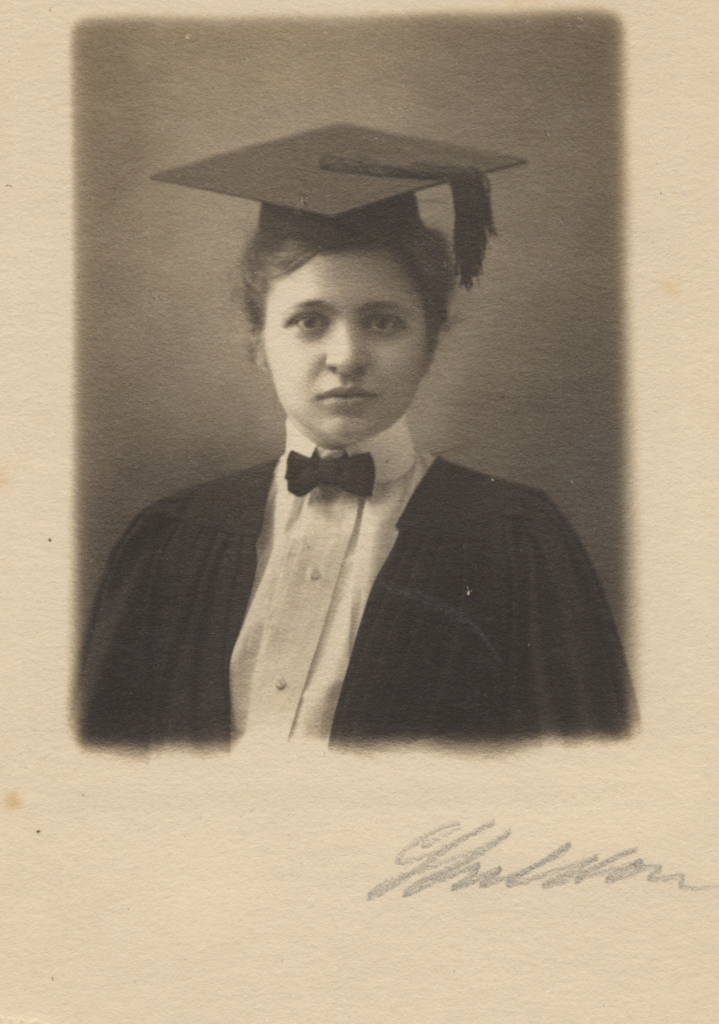 Frances Perkins was the first female cabinet member in United States history, serving as Secretary of Labor from 1933 to 1945 under the appointment of President Franklin Roosevelt. But what about her life before that?
Entering Mount Holyoke College in 1898 as part of the class of 1902, Perkins found that there was no such thing as instant success. She initially struggled with difficult coursework and professors who pushed her beyond her comfort zone. However, Perkins refused to be deterred, rising to any challenge: when she had difficulties with chemistry her sophomore year and was scolded by her professor, Nellie Esther Goldthwaite, a defiant Perkins soldiered through the course, even deciding to ultimately major in the subject with Goldthwaite as her advisor.
Of course, her achievements weren't all academic. First appointed vice president of her class junior year and then president her senior year, Perkins began to flourish as a leader at Mount Holyoke. Perkins' influence was felt throughout campus, from holding bureaucratic meetings to putting on and even performing in class-sponsored plays.
Throughout her life, Perkins remained a loyal member of the Mount Holyoke community. From attending all of her reunions, to becoming a trustee, and keeping up with her duties as class president decades after graduation, Perkins' commitment to her alma mater deserves to be recognized.
Chemistry Lab Instructions, ca. 1899
Chemistry was a required course, which was the original reason that Perkins decided to take it her sophomore year. She struggled immensely at first, to the chagrin of her professor, Nellie Esther Goldthwaite. Rather than wallow in humiliation, Perkins pushed through the class, even learning to enjoy it. In fact, she enjoyed it so much that she majored in chemistry, with none other than Goldthwaite as her advisor. These lab instructions show what types of experiments Perkins would have performed as a student in 1899.

Physics IV Notebook, 1902
Between her duties as class president, taking part in several plays, and all the other stresses that come with being a senior, Perkins initially decided to ease up on the difficulty of her course schedule. However, her advisor, Nellie Esther Goldthwaite, adamantly refused such a thing to come to pass. Instead, Goldthwaite persuaded Perkins to take Physics IV, a highly demanding course that confined Perkins in the lab more often than she would have preferred. This notebook is filled with complex equations and notes, proving Perkins remained a diligent student despite her misgivings about the whole situation.
Factory Report, 1902
In 1902, Perkins took Annah May Soule's Political Economy class. In a time where most political and history classes were expected to focus on large events or topics, such as the Civil War or Bill of Rights, Soule deviated from the norm by having her class visit factories in the Holyoke area. Perkins used several categories to describe the factories, taking note if they were dirty or lacked unions. This prompted her concern for the pay and safety of factory workers, which she would carry with her long after graduation.

Constitution of the Class of 1902, 1902
Class unity played a central role in campus life. As president of her class senior year, Perkins held immense responsibility. Typed up by Perkins herself, 1902's class constitution outlines exactly what such responsibility entailed: Article III, Section II, states that "The President shall preside at all class meetings, shall have authority to call a special class meeting, shall appoint all committees unless otherwise specified and shall represent the class". The meetings described in the constitution were not optional; absentees were fined 15 cents, with even tardy attendees being fined 5 cents.
Play Programs, February 11th, 1902 and May 27th, 1902
Perkins made her stage debut at Mount Holyoke her senior year in "The Lamentable Tragedy of Julius Caesar," taking on the role of Brutus. Like most productions during this time, the play was sponsored by her class. Putting on plays was a privilege that came with seniority — while the younger classes usually put out one production at most, the senior class produced multiple, leading to Perkins coming on stage yet again in "Colombe's Birthday" as Gaucelme. In both programs, she is listed as "Fanny," as she was known by her classmates.
Post-Graduation
This class book encompasses 1902's College career, keeping a record of their class officers, class-sponsored performances, their record in the interclass basketball tournaments, and more. Perhaps most importantly, the end of the book lists everyone in 1902 with their addresses post-graduation, allowing its members to contact each other. Perkins kept track of her classmates' affairs in this section of the book for several years, annotating who had become mothers, changed addresses, or even passed away.
1902 Class Book, September 1902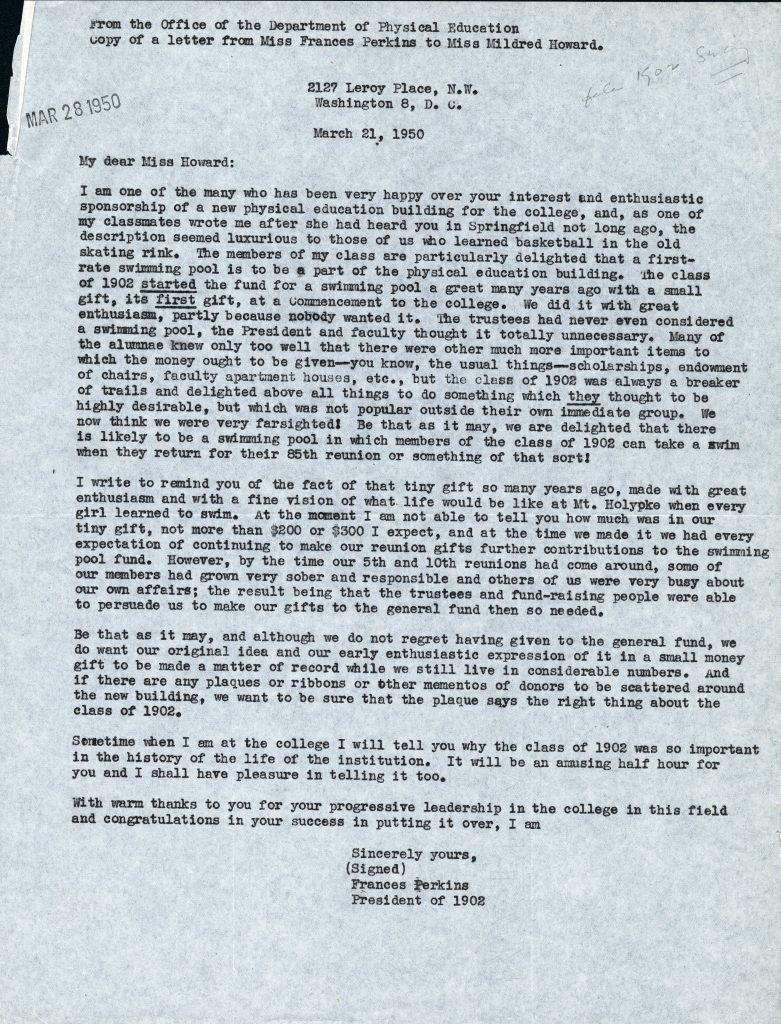 Letter to the Department of Physical Education, March 28th, 1950
Decades after graduation, Perkins never forgot her duties as president of her class. When the College started construction of a new gymnasium in 1950, complete with a swimming pool, Perkins wrote to the Department of Physical Education, reminding them of how her class had raised funds for such a pool all the way back at their first reunion. Of course, swimming pools were not nearly as common on college campuses as they are now making the class of 1902's initial gift a bit of a gag. However, when construction finally started, Perkins insisted the class receive their due credit.
Acknowledgments
This online exhibition is curated by Lindsey Restelli, class of 2022, who is an Archives and Special Collections student assistant. Secondary sources used for this project include Madam Secretary Frances Perkins by George Martin and Frances Perkins "That Woman in FDR's Cabinet!" by Lillian Holmen Mohr.
To learn more about Frances Perkins's time at Mount Holyoke, visit the Archives and Special Collections, or contact us at archives@mtholyoke.edu.