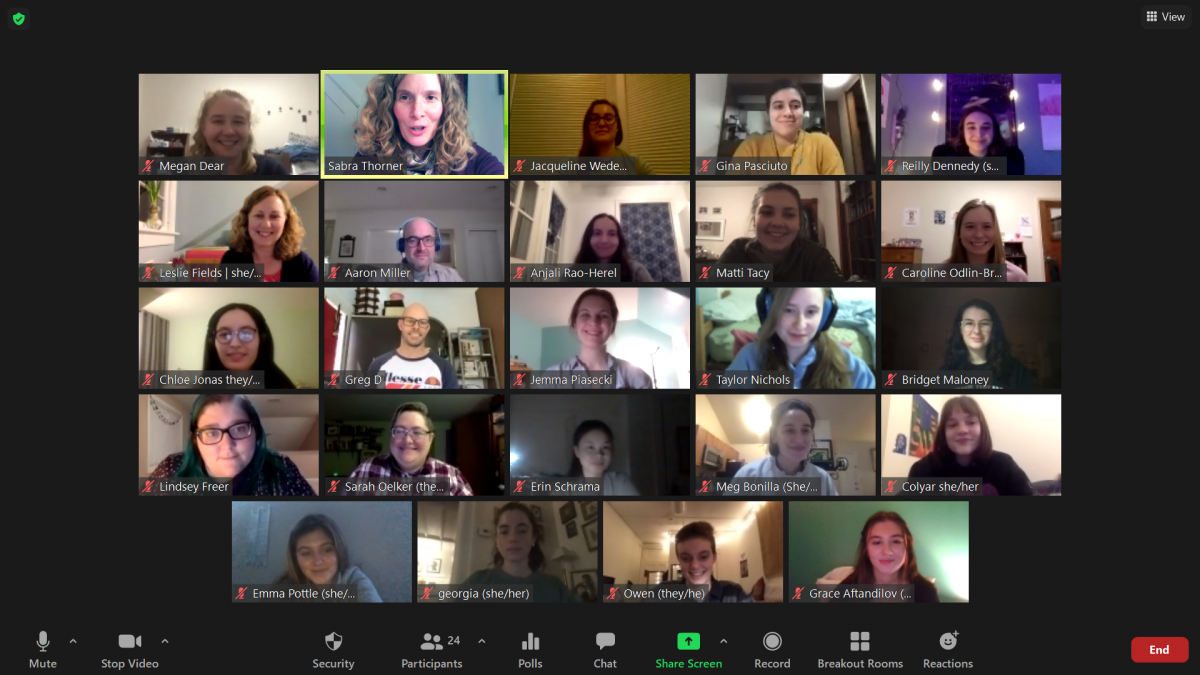 Decolonizing Mission
As part of a broad mission to decolonize knowledge production, this class, "Peoples and Cultures of Indigenous Australia" (Anthropology 216, Spring 2021), aimed to highlight Indigenous peoples' ways of knowing, being, and doing things with respect to activism, teaching, and learning. Indigenous Australian matriarch and senior knowledge-holder Maree Clark, (Mutti Mutti, Wemba Wemba, Yorta Yorta, Boon Wurrung), and Assistant Professor Sabra Thorner (anthropologist at Mount Holyoke), were the course co-convenors. Sabra and Maree are both members of an interdisciplinary team leading a project that focuses on knowledge exchange between Indigenous artists and knowledge-holders in southeastern Australia (in/around Melbourne) and Indigenous artists, activists, and knowledge-holders from Ngukurr, a remote community in the Northern Territory of Australia on which our student research projects focused. To more equitably and collaboratively incorporate Indigenous perspectives into the curriculum, and engage in community-based learning, students learned from Indigenous artists and activists including Maree Clarke, emerging artist Mitch Mahoney (Boon Wurrung, Barkindji), and artist and cultural matriarch Vicki Couzens (Gunditjmara). Additionally, linguist Greg Dickson and medical anthropologist Kate Senior visited our class to help expand our understanding of Ngukurr.

Over the 7.5 weeks of the course, five small groups, four students each, were each assigned a museum. These were: the Smithsonian Institution (Washington, DC); the American Museum of Natural History (New York); the Field Museum of Natural History (Chicago); the British Museum (London); and the Pitt Rivers Museum (Oxford). Each group was invited to search for objects and archival materials with direct or possible connection to Ngukurr within "their museum's" online collections databases and archives. This work is part of the ongoing research project being undertaken by Sabra, Maree, and others. Our research was guided by our Indigenous knowledge-holders' visits to class, and the themes/topics on which they presented, along with Mount Holyoke facilitators who led instructional/tool-building sessions (from Digital Pedagogy, the College Art Museum, Library, and Archives/Special Collections) each week. In the true spirit of collaborative learning and decolonizing knowledge production, we presented our findings to a panel of Indigenous knowledge-holders and Mount Holyoke facilitators who had previously visited our class. The feedback gained during this presentation (about content and page formatting) has been incorporated into each group's webpage in various ways.

Important themes in this course included decolonizing knowledge production and Indigenous sovereignty. We aimed to establish and build relationships with Indigenous people and perspectives while engaging with ongoing Indigenous-led research, ideas, and collaborative modes of learning. Indigenous knowledge and stories were voiced, centered, and valued in our learning space.
Background Info on Students' Research Projects
At the beginning of our research, Professor Thorner provided the class with a collaboratively-brainstormed list of search terms (in an extensive shared document to which we all ultimately contributed). These terms included: Ngukurr, Mirlinbarrwarr, Roper River, St Vidgeon (cattle station), Hodgson Downs, Elsey Station, Eastern and African Cold Storage Company. We included the language groups now present at/around Ngukurr: Alawa, Mara/Marra, Warndarrang, Ngandi, Ngalakgan, Rembarrnga, Wubuy (Nunggubuyu), Wägilak, Ritharrnu, and Kriol. We also included people like Elsie Masson, Ludwig Leichhardt, Augustus Charles Gregory, John McDouall Stuart, Frances Cadell, Reverend EH Warren, Reverend RCM Long, Neighbour, Dexter Daniels, Wally Wilfred, and Gertie Huddleston.
The students also defined a list of "shared vocabulary" terms such as Aboriginal, Torres Strait Islanders, Indigenous, Victoria (Port Phillip District), NAIDOC, Stolen Generations, Country, 1967 Referendum, William Barak/Simon Wonga/ngurungaeta, etc.
We went into our research with the understanding that we mightn't uncover anything in the archives of our respective museums. The most "successful" terms some groups ended up using were Roper River, Arnhem Land, and Groote Eylandt. Students used these terms to try to find more information about Ngukurr, since using Ngukurr as a search term yielded little-to-no results in several cases. The databases were inconsistent in their breadth of results and lacked digitized photography of objects in some cases.
In doing this research, our class gained great understanding about the many kinds of challenges in access — for Indigenous peoples especially — to museum objects and collections. The lack of updated databases or digitized information are indicative of enduring colonial processes that separate people, cultural custodians, and makers, from the objects and the knowledge that belong to them. While we worked only to provide information, and are not members of the culture we were researching, we came away from the research with a newfound understanding of how difficult colonial institutions can make cultural reclamation.

Grounding Us In Place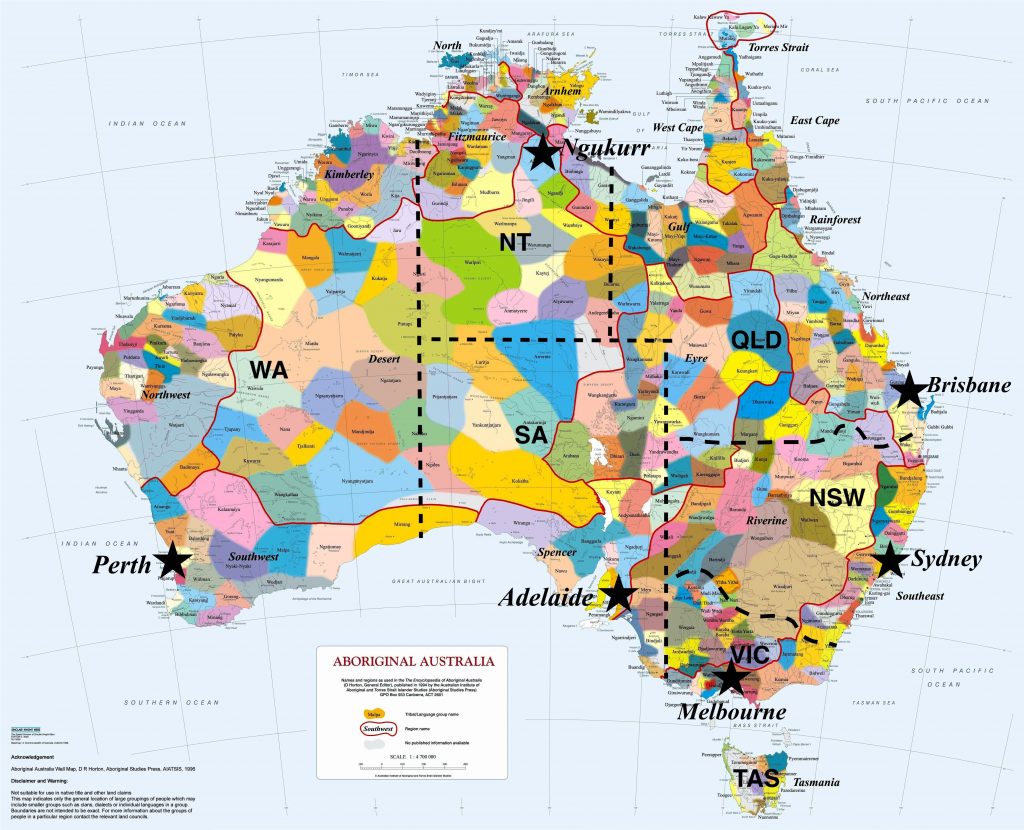 The above image is a map of Aboriginal Australia, with Indigenous language groups and region names represented. Please note, smaller clans and dialects within the larger regional language groups are not represented on this map. Ngukurr, the focus of our collaborative class research projects, can be viewed at the top center of the map in the "NT" or Northern Territory. The Field Museum group also thought to include some major Australian cities in order to help orient any viewers to the layout of the map.
Horton, D. R., & Knight, M. (n.d.). Aboriginal Language Map. In Musuems and Galleries of NSW. Original available at: https://mgnsw.org.au/sector/aboriginal/aboriginal-language-map/
Land Acknowledgements
Mount Holyoke College resides on stolen Nonotuck Land. We want to acknowledge the long history of colonialism and genocide of the Indigenous people of the land that we are now occupying and learning on, and the rich history of the Indigenous people who still live on this land. We would also like to acknowledge our neighboring Indigenous nations: Nipmuc and Wampanoag to the East, Mohegan and Pequot to the South, Mohican to the West, and Abenaki to the North. We recognize that acknowledging the atrocious history of stolen land from Indigenous nations in the United States is only a beginning step to supporting Indigenous communities and that there is much more work to be done. We pay our respects to the Indigenous knowledge holders of the Nonotuck and neighboring nations. We would like to encourage non-Indigenous readers to continue to educate themselves on both the past and present of Indigenous people and their land. For more information, we encourage you to go to the following website: https://www.fivecolleges.edu/natam/about-kwinitekw
The people of Ngukurr have their roots in the Ngalakan, Alawa, Binbingka, Marra, Ngarnji, Wilangarra, and Yanyuwa communities. Languages spoken in the region of Ngukurr include Kriol, Gurrindji, Jawoyn, Mayali, Marra, Warlpiri, Nunggubuyu, and Ngaringaman, and others. We acknowledge the rich cultural heritage of these groups and the struggles they have endured under colonization, and we are thrilled to see the success of innovative language revitalization projects. We also wish to thank Dr. Greg Dickson and Dr. Kate Senior for all they have taught us over the course of the module!
We give our utmost thanks and respect to the Kulin nations of what is now known as the Australian state of Victoria, including: Wurundjeri, Boonwurrung, Dja Djawurrung, Taungwurrung, and Wathawurrung. We would like to address and recognize that Aboriginal peoples of Victoria (a colonial name in and of itself) have been and continue to have a country occupied by colonial British and European settlers whose actions have greatly impacted and displaced lives, languages, lifeways and traditional culture making methods. We also want to flag how important and incredible cultural and linguistic revitalization projects (kangaroo-teeth necklaces, possum-skin cloaks, kopi mourning caps, Gundjitmara language reclamation and more) led by Maree Clarke, Mitch Mahoney, Vicki Couzens, and so many others are, and how personal, communal and emotional that process is and must be. Thank you all for letting us learn from and alongside you; we are cheering you and your revitalizing work/ practice/ lifeways on!
Cultural Protocols
We acknowledge that Aboriginal and Torres Strait Islander people are the original peoples of Australia. We also acknowledge that the objects and information on this website contain Aboriginal Australians' cultural history and knowledge. As such, we recognize Indigenous peoples' rights to determine how they are represented. We also recognize Indigenous peoples' rights to manage their sacred and traditional knowledge in accordance with their customary law(s). We — working collaboratively throughout this course — have collated some knowledge about Ngukurr and Ngukurr peoples' cultural heritage. Therefore we request that viewing the information on this website is done with respect and awareness of this positionality. There are some objects that are mentioned, but not rendered visible, because of the culturally sensitive material they depict. Furthermore, the available information may change or be restricted if and when requested by the people of Ngukurr.

These cultural protocols have been adapted from the Returning Photos: Australian Aboriginal Photographs from European Collections project, which uses ethical guidelines from multiple sources, such as the Australian Institute of Aboriginal and Torres Strait Islander Studies (AIATSIS) Code of Ethics for Aboriginal and Torres Strait Islander Research, to formulate their cultural protocols. For more information, please visit https://ipp.arts.uwa.edu.au/cultural-protocols/.

"Cultural Protocols." Returning Photos: Australian Aboriginal Photographs from European Collections. Last Modified (n.d.). Accessed February 28, 2021. https://ipp.arts.uwa.edu.au/cultural-protocols/.