How might museums acknowledge the confronting truths of colonization, and the intergenerational and ongoing trauma endured by Indigenous peoples?
How might this often-intercultural work offer possibilities for healing?
The photograph features (from left to right) Molly Mahoney, Mitch Mahoney, Maree Clarke and Kerri Clarke, holding the finished Seven Sisters Cloak, made while they were artists-in-residence at Mount Holyoke College in April 2021 (photograph courtesy of Ellen Alvord, MHC/CAM).
This semester our class studied how museums collect, preserve, categorize, and exhibit objects, and through these practices, produce and circulate knowledge. This course took "the museum" as an object of ethnographic inquiry, focusing especially on Indigenous peoples and their ways of knowing, being, and doing things. Our teaching and learning was guided by principles of Indigenous sovereignty, and grounded in storytelling and in making things as Indigenous ways of transmitting knowledge. Artists Maree Clarke (Mutti Mutti / Wamba Wamba / Yorta Yorta / Boonwurrung), Kerri Clarke (Boonwurrung / Wemba Wemba), Mitch Mahoney (Boonwurrung / Wemba Wemba / Barkindji), Molly Mahoney (Boonwurrung / Wemba Wemba / Barkindji), and Nicholas Hovington (Palawa) guided our learning. This website seeks to showcase the great work we did together.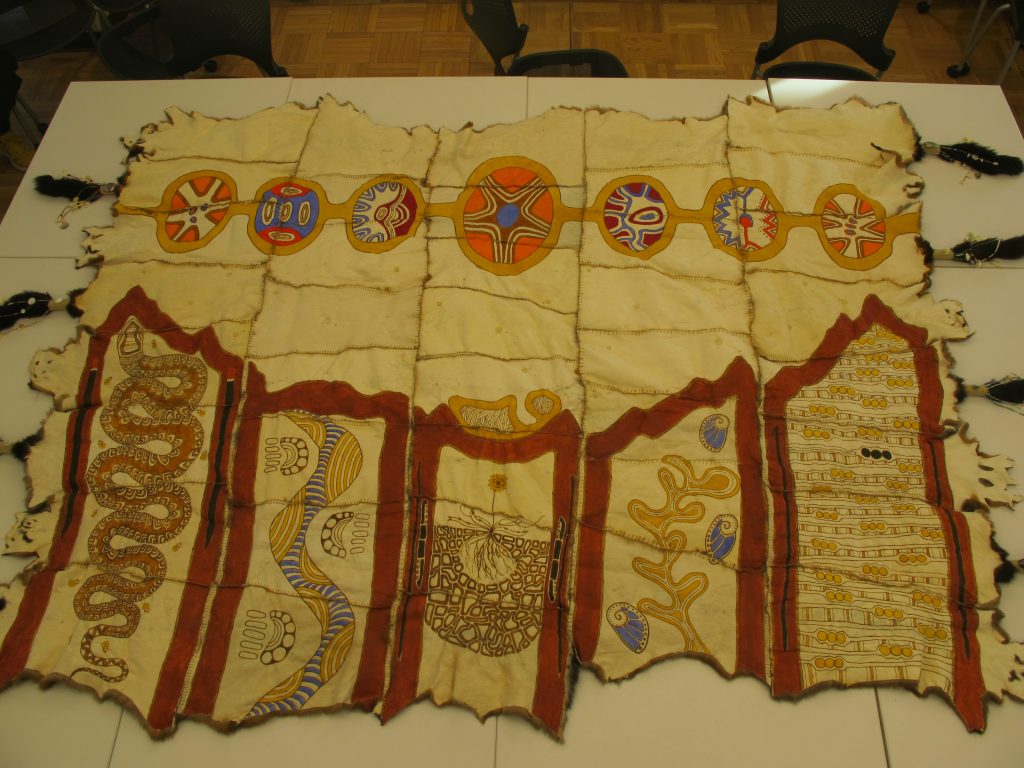 Participants, partners, funding bodies and collaborators
This course is funded by a Native American and Indigenous Studies (NAIS) / Mellon Grant from Five Colleges, Inc.; it is also extending and contributing to the work of an Australian Research Council Indigenous Discovery Project (ARC INDP) entitled "The Living Archive of Aboriginal Art and Knowledge." This seminar included an artists' residency in which Maree, Nicholas, Kerri, Mitch, and Molly joined us and led our learning in the last four weeks. During this time, we collaboratively made a possum-skin cloak to be exhibited at the Mount Holyoke College Art Museum. Partners in this work include the department of Art Studio, the Mount Holyoke College Art Museum (Ellen Alvord and Aaron Miller), the Fimbel Maker & Innovation Lab, and the Educational Technology team at Mount Holyoke College; and Dr Fran Edmonds, Senior Research Fellow, at the University of Melbourne.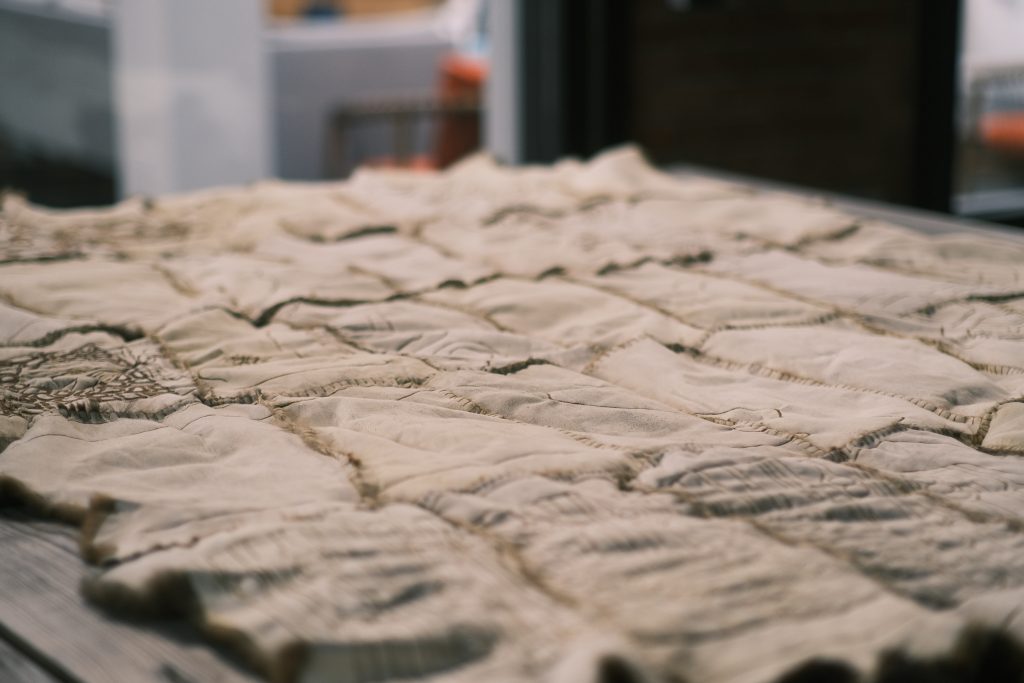 Course dates: January 24, 2022 – April 25, 2022
Course website published: May 2022
Student participants:
Elie Alexander Molly Harper
Fred Bird Marlene Healey
Daisy Boyd Sarah Lancaster
Kaia Brem Bridget Maloney
Olivia Clarke Lucy Oster
Cortnei Edwards Leen Rhazi
Tasha Elizarde Lena Sigel
Georgia Fish Madison Stover
Fen Freese Nora Sylvester
Domenica Guaman

Meg Bonilla (Research and Teaching Assistant)
Juliette Gagnon (Community Based Learning (CBL) mentor)
Group contact: Lucy Oster (class of 2023), oster22l@mtholyoke.edu
Course book bibliography:
Decolonizing Museums by Amy Lonetree (UNC Press 2012)
This is Our Life: Haida Material Heritage and Changing Museum Practice, by Cara Krmpotich, Laura Peers, and the Haida Repatriation Committee and staff of the Pitt Rivers Museum and British Museum (UBC Press 2013)
Dark Emu by Bruce Pascoe (Scribe 2018)