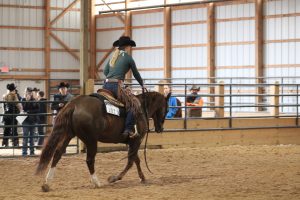 What is an IHSA Western Team?                                                                     
Our team at Mount Holyoke is affiliated with the Intercollegiate Horse Show Association.  For more information please visit their website:
https://www.ihsainc.com/about-us/general-information
https://www.facebook.com/IHSAinc
We also are affiliated with the AQHA and NRHA and compete in western horsemanship and reining during the season.  Please visit:
https://www.aqha.com/aqha-news-and-blogs
https://www.facebook.com/aqha1/?ref=page_internal
https://www.facebook.com/nrhareining
How do I join the team?
The first thing you will want to do is email both coaches to introduce yourself and let them know you want to join the team.  At this point, you will be given important dates and information on how to become part of the team.  Try outs are at the beginning of each semester, and every student that wishes to join the team will be welcomed onto the team.  Try outs are a way to find out if you are ready for the senior show team or the junior show team.
What is the difference between the senior show team and the junior show team?
Due to the increase in popularity of the team and the varying levels of experience of its riders, the western team, based on performance at tryouts, places riders either on the senior team or the junior team. Members of the senior team will be entered in shows. Both teams practice regularly at Mount Holyoke College.  The Coaches and lesson coordinator (Wrangler) regularly rotate riders through lessons to assess their improvement and ability. Membership on both teams is fluid, and the teams may be switched depending on how individual riders progress. All riders play an equal role on the team, regardless of which team they are assigned.  If you are in Level II or Open, you will be taking reining lessons off campus with a reining trainer on reining trained horses.  Level II now offers Ranch Riding as well in IHSA competitions.
Can I join the team even without much riding experience?
We welcome all riders to our team, including those with little or no previous experience! Some riders have their first experience on horseback at tryouts, so don't be afraid to sign up and try out. We are always looking for new members that have positive attitudes and are striving to learn and grow. This includes riders who have experience with English, Dressage, 4-H, gymkhana and any other discipline who would like to try a new type of riding.
On our team we compete in two different events, horsemanship and reining.  At this time, all levels compete in the horsemanship phase.  Once you reach the Open division, you need to provide documentation that you have taken at least six months of professional reining training. Horsemanship consists of rail work where you will ride with many other competitors in the arena at the same time and you will be judged on your ability to control and maintain the horse while using proper aids and staying in proper position.  You may be asked to complete a pattern.  Reining is an event where you will compete one at a time performing a designated pattern set forth by the NRHA or IHSA.  You are judged on your ability to maneuver the horse through the pattern using minimal aids while staying accurate and showing that horse to its fullest potential.  Ranch Riding is offered at Level II and is similar to reining in that it is a scored pattern that you complete individually.  This new class will prepare riders for competing in reining at the Open level.
Who is eligible to join the team?
Students who are enrolled at Mount Holyoke College are eligible for the team. This includes Frances Perkins scholars. Team members must carry at least 12 credits per semester but do not have to be enrolled in a PE class, although riding in a PE class is recommended.  You must maintain a GPA of 2.0 or above to be an active member of the team.
What is the time commitment of being on the team?
The Mount Holyoke College Western Team is a club sport. It is a commitment that includes riding every week, attending weekly team meetings, completing two workouts per week, hosting home horse shows and other events, attending team bonding activities, and participating in fundraising.  Our team requires the same energy and commitment that a varsity team does.
Does it cost money to be on the team?
The Western Team is a club sport and receives a certain amount of funding per year from the college. Team dues vary each semester and may be lowered based off of fundraising success.  The cost to be on the team is minimal in comparison to industry standards.  For a complete sheet of financial facts, please email the coaches.
Do I need my own equipment, or does the team provide it?
Once riders are placed on the senior team, they will need to purchase their own show outfits. The western team understands that riding clothes are expensive and the coaches will actively helps riders find their equipment at a low cost. All riders will need to wear helmets during practice. The Mount Holyoke College Equestrian Center has helmets that riders can borrow but it is highly recommended that you purchase your own helmet due to health and safety precautions. The western team also orders apparel every semester, which is not mandatory to purchase but is encouraged so that the team looks cohesive and professional at all events.
What are the leadership opportunities on the team?
The Western Team is led by the coaches and four officers elected by their teammates. The Captain, Manager, Treasurer, and Wrangler (lesson coordinator) meet frequently to develop and discuss the team and the show season. In addition to these four positions, every member of the team has a semester-based job that contributes to the success of the team. Examples of these jobs include: grooming manager, tack inspectors, media/PR manager, Club Sports council representative, Senate representative, and many more.
More questions?
Contact us!