How to find the symposium Moodle site
Senior Symposium Spring 2020 moodle site will be open to viewers from April 17th at 7 AM (Eastern US time) until April 24 at 6 PM (Eastern US time). The site will NOT be visible to people other than the presenters until then, so please check back at symposium time!
Current students, staff and faculty with an @mtholyoke.edu login will be able to enroll themselves in this course in order to watch presentations and ask questions in the discussion forums. We encourage you to ask questions of the presenters and congratulate them on their work. For the security of everyone, only those with MHC login credentials will be able to access this site, and we ask that you not share content from this site without prior permission.
On April 17, the Moodle site will become available in two ways:
1. Log in to moodle.mtholyoke.edu, and then go to https://moodle.mtholyoke.edu/course/view.php?id=18646 and follow the prompts to self-enroll (see next section)
2. Log in to moodle.mtholyoke.edu, and while you're still on the home page, look for the "Search courses" button below the welcome message.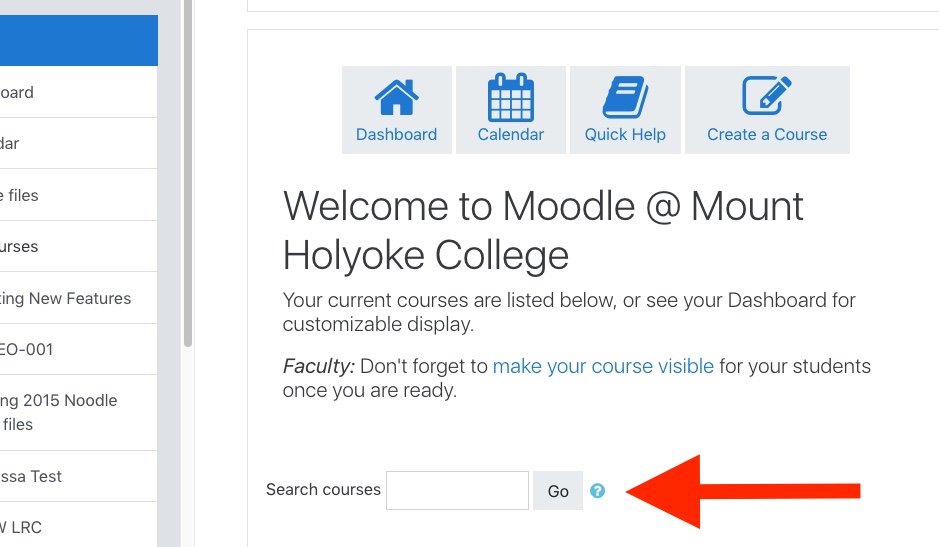 Type in "Senior Symposium Spring 2020" and the course should be in your search results.
How to enroll yourself in the course
Click on the title of the course, "Senior Symposium Spring 2020." On the page that you go to, scroll down past the list of all of the "Teacher" presenters, and click on the "Enrol me" button.

You will be taken to the main page of the symposium course site, where you can start to view presentations and participate.