Frequently Asked Questions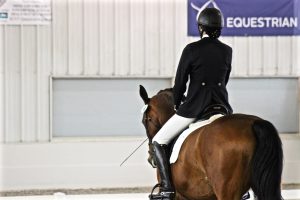 For more information on intercollegiate riding, visit the IDA website.
For more information on riding at Mount Holyoke, visit the Equestrian Center website.
Q: What is dressage?
A: The word dressage is taken from a French term meaning "training." It is not only a method of schooling, but also a competitive equestrian sport. Basic training is the same for every horse, regardless of what they specialize in later on. "The object of Dressage is the harmonious development of the physique and ability of the horse. As a result it makes the horse calm, supple, loose and flexible but also confident, attentive and keen, thus achieving perfect understanding with his rider" (USEQ Rule Book). Because dressage uses gymnastic exercises, it also improves the seat, coordination and feel of the rider.
Q: How are IDA dressage competitions different than other dressage competitions?
As with most collegiate riding disciplines, the main difference between Intercollegiate Dressage Association (IDA) competitions and other dressage competitions is its catch riding format. Instead of riding their own horse or a horse they are familiar with, riders in the IDA are assigned horses randomly on the morning of the competiton. Generally speaking, these are considered "strange" horses that the rider is unacquainted with/has not ridden before. This process is referred to as "the draw", in which the team draws a predetermined group of horses at each IDA level that they will later compete on. After the draw, riders are able to watch their horses be warmed up at each level in a process called "the parade". During the parade, each rider will carefully observe their horse and discuss riding strategies with their coach, to be implemented when their warm up begins. Once they have mounted, riders have ten minutes (timed) to warm up their horses while being coached before entering the ring to ride their test. Riders will then ride the USDF test for their respective IDA level completely from memory– no test calling allowed!
Q: What level should I try out for?
A: IDA competitions are challenging, even for the most seasoned competitors. Tryouts are grouped by IDA level, and riders will tryout for the lowest level they are qualified for. Four different IDA levels make up a school's team– First Level, Upper Training, Lower Training, and Introductory. We always need riders at all four levels. No level is more important than another– they share equal importance in terms of collecting points. For riders new to the IDA, eligibility for each level is determined by the IDA rulebook, in section 4.1F, found here. Please note that the IDA rulebook is subject to change each year. Make sure you consult with our coach, captain, or manager before trying out if you are unsure of your level placement– if you try out at the wrong level, you may be ineligible to compete for the team. Everyone interested in being on the team must try out each semester, even those who have been on the team before. Once a rider is registered with the IDA, there are three ways a rider can move up through the levels– by "pointing out" of a division (points are accumulated throughout a competitor's IDA career), winning in an individual competition class at Nationals, or if the coach decides to move the rider up to the next level.
Q: How can a rider prepare for tryouts?
A: When deciding the competitive team roster, we look for riding ability and athletic fitness, as well as a positive attitude, team camaraderie and willingness to learn more about the sport of dressage. All levels of riders are encouraged to tryout, but riders must be able to walk and trot safely on their own. Students who are not able to do so are welcome to become members of the team on the non-competitive roster. Tryouts are held at the beginning of the fall and spring semesters and are conducted similarly an IDA show. Each rider is given 10 minutes to warm up– without assistance– with our coach quietly observing their warm up technique. After the warm up, they will then ride the appropriate USDF test for their IDA level from memory. Riders of the same IDA level will then switch horses, receiving another five minutes to warm up before riding their test again. This ensures that they can demonstrate their ability on multiple horses and that someone with a difficult ride is not judged unfairly. In order to prepare for tryouts, riders should ride as many different types of horses as possible and practice riding accurate tests. If you don't make the competitive roster the first time, keep trying throughout the semester and stay active with the team!
Q: I have prior riding experience, but not in dressage. Is this okay?
A: Yes! Our team consists of riders from diverse backgrounds– in addition to dressage, we have had riders come from eventing, equitation, Pony Club, 4-H, hunters, western pleasure, trail riding, and even barrel racing backgrounds. These individuals have all shared great success in the IDA. The true challenge of the IDA is being able to "read" horses well, and to implement these observations quickly and effectively. This is a skill that all riders– regardless of discipline– practice every day. Everyone brings a unique history to the team, and without this diversity, we would not be a strong team.
Q: What is required to be on the dressage team? How much of a time commitment is necessary?
A: Riders are highly encouraged (but not required) to be enrolled in a dressage physical education class, which count as PE credits towards graduation requirements. Group PE classes meet once or twice a week and private lessons meet once a week. Team practices are used to polish your dressage skills, but more of the foundation is given in the dressage PE lessons. Twelve team members ride once a week in an hour-long group practice normally held Friday afternoons. Members are required to participate in workouts, practices, team meetings, educational events, and fund-raising activities. There are usually 3-6 horse shows a semester and a national competition at the end of the spring semester. It is important to keep in mind that not every rider will be competing in every show, and most do not compete in all 6. MHC hosts a home show each semester and members are required to help prepare and run the show.  The team definitely involves a commitment of time and energy, but the opportunity to improve one's skills as a dressage rider and to be supported by fellow team members makes it all worthwhile! All of our members balance their school work, on-campus and off-campus jobs, riding their own horse, and other personal commitments with being on the team. Everyone must be in good academic standing with the college and abide by its honor code to maintain team membership.
Q: Can I also be on the equitation team (IHSA riding team) and the western team?
A: Yes, and many of our team members are. In fact, many of these individuals see a noticeable improvement in their riding technique on other teams thanks to the strong classical foundation that dressage provides. Similarly, many team members feel that the skills they learn on other teams can greatly assist them in the IDA.
Q: What do team members have to pay for?
A: The dressage team is a club sport and the MHC Student Government Association covers a large amount of the team's expenses. The team is required to fund-raise in order defray the cost of show entries, travel and other expenses. Members must pay approximately $35 to register with the IDA each year. Members are encouraged to purchase team apparel, but it is not required. Members must also pay $200 in dues at the beginning of each semester. Please reach out to us if this is a concern; we can make accommodations in many cases.
Q: How successful has the dressage team been?
A: The team has been extremely successful! In 1995 Michelle Hoffman, a MHC student, helped create the IDA. Since then, MHC has won 9 team regional champion titles, and 4 team national titles in 2002, 2003, 2004, 2008, and 2013. In addition, the team has been Reserve National Champions in 2005, 2007, and 2017. We have numerous Individual Regional and National Champion riders in all divisions as well. Overall, MHC has the distinction of having the most titles and team and individual wins in the history of the IDA!
Q: What horses does the team use?
A: The Equestrian program designates certain horses as "dressage horses" depending upon their level of suitability. These horses are used in dressage lessons and team practices. However, students often ride the equitation horses in lessons and practice to determine their suitability in the dressage program or to practice for the show. MHC is very lucky to have such wonderful horses in the program and the ability to have several school masters. The team decides as a whole which horses are best suited for each level to compete in our home show.
Q: Where is the Equestrian Center? Can I bring a horse?
A: The MHC Equestrian Center is located on campus and there are approximately 30 stalls for students. Contact director Paula Pierce (ppierce@mtholyoke.edu) for a boarder application. Some riders on the team have their horses at MHC, but having your horse here is not required and your horse does not have to be used in the dressage program. Boarders may ride in dressage lessons with our coach or with another MHC instructor. The Equestrian Center has two indoor arenas, a standard outdoor dressage arena, an outdoor jumping arena, trails and a cross country course. For more information and pictures of our facilities, please visit the Equestrian Center webpage.
Q: When I come visit MHC can I stay overnight or talk with a dressage team member?
A: Prospective students are encouraged to attend the equestrian center open house or attend the Focus on Riding program in November organized through Admissions.
Q: Are there riding scholarships?
A: MHC does not offer athletic scholarships for tuition. When funds are available, dressage lesson scholarships are available to help defray some of the cost of lessons. Riders can apply for scholarships at the begining of each semester.
Q: Does the Equestrian Center hold clinics or shows?
A: Yes, both dressage and jumping clinics are held at MHC with previous clinicians such as Lilo Fore, Gunnar Ostergaard, Lendon Gray, and Sarah Gieke. If possible, the team helps make the costs reasonable so that team members can participate or audit. Each spring MHC holds a very popular open dressage show and seperate combined training show. There are also several open equitation shows held at the Equestrian Center throughout the year. For more information, visit the Equestrian Center webpage.