L is for Lesbian (Bisexual) Alliance (LA/LBA), Audre Lorde, Laverne Cox, lesbian,
Lesbian Connection, Lyon's Pride, and Love & Rockets !
The first official queer student organization at Mount Holyoke was the Lesbian Alliance, which was established in 1976. "The organization was non-hierarchical in nature and its goal was to 'provide for the emotional and social needs of gay women and women of different sexualities.'"
"Due to a unanimous vote taken at an internalized homophobia workshop held November 10th, 1988, the Lesbian Alliance was renamed the Lesbian Bisexual Alliance (LBA)."
–PERSISTENCE AND EXISTENCE: LGBTQ HISTORY AT MOUNT HOLYOKE COLLEGE
Audre Lorde (1934-1992) was a self-described "black, lesbian, mother, warrior, poet." Some of her best known works include The Cancer Journals (1980) and Sister Outsider (1984). –poetryfoundation.org
Due to a request from MHC alum Mita Radhakrishnan '90, you can now find a poster of
Audre Lorde in the Marks House!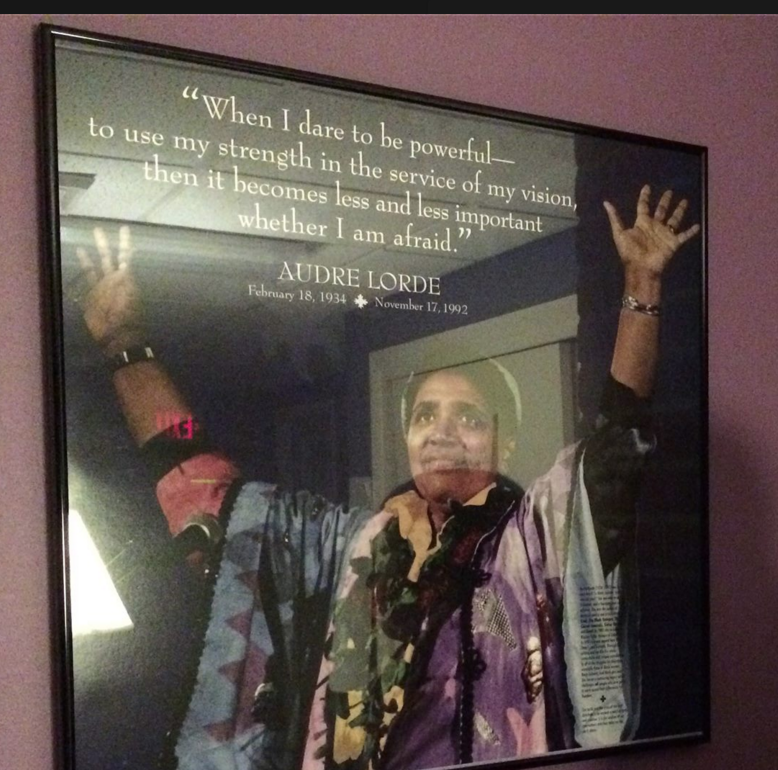 Laverne Cox is "an Emmy-nominated actress who can be seen in the Netflix original series Orange is The New Black where she plays the ground breaking role of Sophia Burset… Laverne is the first trans woman of color to have a leading role on a mainstream scripted television show." –lavernecox.com
lesbian – "a homosexual woman. The word derives from the Greek island of Lesbos, where the poetess Sappho ran a school for young women, and wrote often erotic poetry about love between women." –lesbianhandbook.net
Lesbian Connection "is the free worldwide forum of news, ideas and information for, by and about lesbians. We've been publishing this bimonthly magazine since 1974, and we mail issues out via snail mail in plain brown envelopes. (The word "lesbian" doesn't appear anywhere on the outside.)" –lconline.org
You can read the latest issues of Lesbian Connection magazine in the Marks House or sign up to receive your own free copies!
Lyon's Pride is Mount Holyoke's queer alumnae/alumni network and is helping OUTreach to plan the Queer Alum Conference. This is their website.
Letter from the editor: "Love & Rockets is objectively the greatest comic book series of all time. Jaime Hernández has been self-publishing his alternative comic Love & Rockets for over 30 years, following the artfully crafted but fictional lives of queer best friends who are also chicanas, punks, mechanics, strippers, wrestlers, super heroes, lovers, teachers, musicians, artists, and so much more. Creating perhaps the most complex women characters, Jaime Hernández's Love & Rockets series challenges gender roles and pushes the boundaries of the comic book medium."