Aidala SPM Lab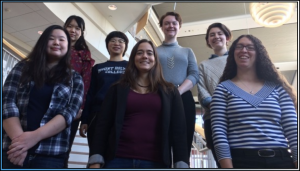 Fall 2018 (left to right): (back row) – Ye Zhang, Xinrui (Anna) Zhu, Molly Aslin, Ashley Cavanagh; (front row) – Jae Sichel, Katherine Aidala, Christina McGahan
Principle Investigator

Katherine Aidala
Katherine Aidala is a Professor of Physics, Chair of the Physics Department and Engineering Committee, and Director of the Fimbel Maker & Innovation Lab at Mount Holyoke College. She completed her undergraduate degree with a double major in applied physics and psychology at Yale University, and received her PhD in applied physics from Harvard University in 2006 in experimental condensed matter physics. She received the Presidential Early Career Award for Scientists and Engineers (PECASE), as well as the NSF CAREER award in 2010, and was named a Cottrell Scholar of 2009 by the Research Corporation for Scientific Advancement. Her research uses scanning probe microscopy to study fundamental properties of a range of material systems. She teaches a seminar course on Gender in Science, and is the founder and host of SciTech Cafe, holding monthly events that bring scientists into an informal setting to discuss their work with the general public.
Post-Doctoral Researcher

Christina McGahan
Christina graduated with a B.S. in Physics and minors in Math and German from Gettysburg College in 2011 and earned a Ph.D. in Physics from Vanderbilt University in 2017. Her dissertation work focused on simulating, fabricating, and experimentally probing the interaction of plasmonic antennas and the phase transition in vanadium dioxide. Her work at Mount Holyoke probes the influence of fabrication parameters on the distribution of trap states in organic semiconductors, quantum dots, and 2D materials as well as on the work function of these materials. Using Electrostatic force microscopy (EFM) and Kelvin probe force microscopy (KPFM), she probes these trap states and work functions with nanoscale spatial resolution. Christina is also engaged in building a model describing the physical processes influencing the charge mobility in organic semiconductors and quantum dots as measured using time-resolved KPFM and a thin film field-effect transistor geometry. Her general research interests are in probing the optical and electronic properties of nanoscale materials.
Affiliate Researcher

Jason Moscatello
Jason received his B.S. in Physics with a minor in Women & Gender Studies from The College of New Jersey in 2000, an M.S in Physics from The College of William & Mary in 2002, and his Ph.D. in Engineering Physics from Michigan Technological University in 2010.  His dissertation research focused on growing carbon nanotubes and developing the methods required to integrate them into molecular electronic and sensing devices.  Jason's work at Mount Holyoke developed a new method for measuring trap states in quantum dot and organic field effect transistors.  His work also focuses on developing software to meet the group's research needs, from data acquisition to modeling and data visualization.
Undergraduate Researchers
Xinrui Zhu ('22)
Ayla Osgood ('23)
---
Lab Alumni
Postdoctoral Researchers, current position
Prof. Anne Murdaugh, Rollins College
Prof. Jessica Bickel, Cleveland State University
Prof. Nihar Pradhan, Jackson State University
Dr. Anandakumar Sarella, University of Nebraska, Lincoln
Undergraduates 
Molly Aslin ('21)
Ye Zhang ('20)
Jae Sichel ('20)
Ashley Cavanagh, ('19)
Xiaoxue Gao ('18)
Alyina Zaidi ('17)
Minxuan Cao ('17)
Alyina Zaidi ('17)
Lan Phuong Nguyen Hoang (Hampshire College '17)
Linh Do ('17)
Xu Xiaofan ('17)
Chloe Castaneda ('16)
Fikriye Idil Kaya ('16)
Sarah Read ('16)
Mina Khan ('16)
Ye Tian  ('15)
Karishma Reddy Kham ('15)
Madeline Shortt ('15)
Pheona Williams ('15)
Ednah Louie ('14)
Morgen Patterson ('14)
Thao Le (Hampshire College '14)
Ye Tian ('14)
Yineng Sun ('14)
Ruimin Cai ('14)
Lauren Clark-Johnson ('13)
Pawana Shrestha ('13)
Qinxia Wang ('13)
Yihan Li ('13)
Laura Tomich ('12)
Jackquelyn Koech ('12)
He "Clare" Xu ('12)
Alyssa McKenna ('12)
San Theingi ('12)
Xiaolin Hu ('12)
Alyssa McKenna ('12)
Sarah Dole ('12)
Abigail S. Licht ('11)
Sarah Meredith ('10)
Abby Goldman ('10)
Moureen C. Kemei ('10)
Lori-Anne Ashwood ('09)
Diana Chung ('09)
Tolu Ogunbekun ('09)
Danti Chen ('09)
Elena Garza ('08)
Taylor Pressler ('08)
Catherine Volle ('06)