Submitted by Annie Sophie Tinney. My favorite holiday is Easter. Even as 20-somethings, my siblings and I start off the day with a brutally competitive egg hunt and then come inside for a big Polish brunch. Babka is always the star of the show. This is my family recipe.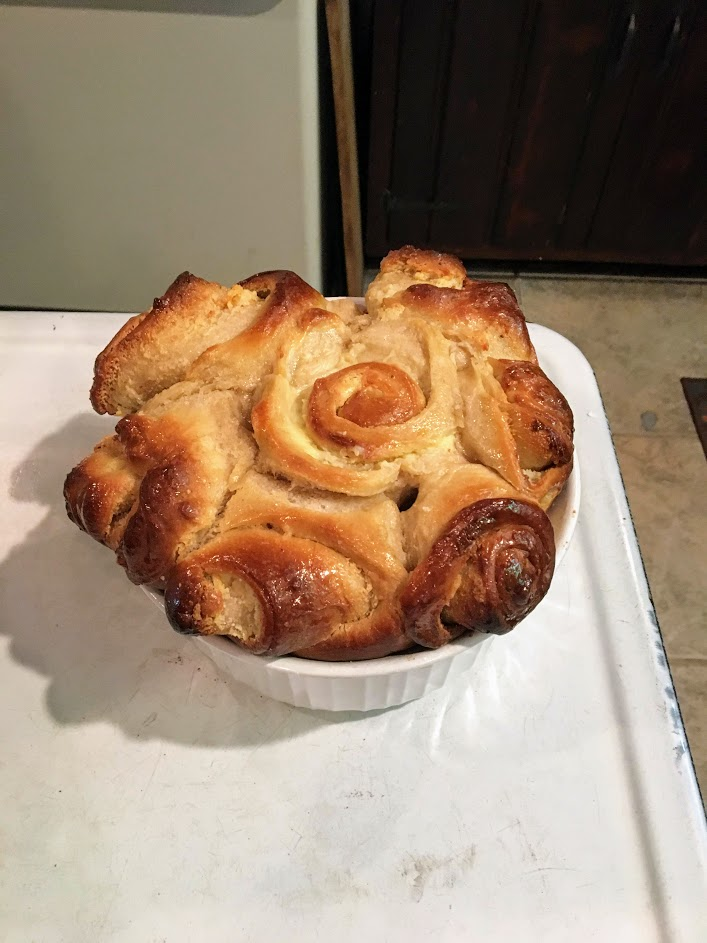 Dough Ingredients:
4 to 5 cups (486 g to 614 g) all-purpose or bread flour
1 package or 2¼ teaspoons instant yeast
1 cup lukewarm water (made with three parts cold water and 1 part boiling water)
1 tablespoon kosher salt
1 tbsp cinnamon
¼ cup white sugar or sweetener
½ cup canola oil
2 eggs
2 tbsp citrus zest
2 teaspoons vanilla extract
Cheese Filling:
12 oz Farmers cheese or Cream Cheese (softened)
⅓ cup white sugar
1 egg yolk
2 tsp citrus zest
Simple Syrup:

1/4 fresh-squeezed citrus juice (or the juice of one citrus plus enough water to make ¼ cup)
3 tablespoons sugar
Instructions:
Whisk one cup (128 g) of the flour with the yeast and stir in the warm water until combined. Cover with plastic wrap or a dishtowel and let rise about 45 minutes or until puffy and bubbly.
Directly into the bowl, add the salt, cinnamon, sugar, oil, eggs, zest, and vanilla. Stir with a spatula or spoon until well mixed, then add the remaining four cups (486 g) of flour.

If using a mixer, use the paddle attachment at low speed.

Mix until dough forms a sticky mass. Turn dough onto a lightly floured work surface and knead for just a few minutes, until dough becomes smooth. Transfer to a lightly oiled bowl, cover it with a dish towel or plastic wrap and let it rise in a warm spot until doubled in bulk, one to two hours or longer depending on the temperature of your kitchen.
Make the filling: add all ingredients to a bowl and mix until combined.
Grease 10" springform/deep round pan and cut parchment paper to fit the bottom of the pan.
Roll out dough to a rectangular shape (about 22" x 12", and ¼-½" thickness). Spread filling evenly across the rectangle. Roll dough into a tight coil, like rolling a cinnamon bun coil. Cut into 3.5-4" segments and arrange in pan.
Cover the pan with plastic wrap and let rise 1 to 1½ hours at room temperature or until the dough has risen.
Heat oven to 375°F. Remove plastic wrap and bake on the middle rack of your oven. Bake for 1 hour- 1 hour 30 minutes. If the babka is browning too quickly, cover it with foil.
While babka is baking, make the syrup: Place juice/water and sugar in a small saucepan and bring to a simmer until sugar dissolves. Remove from heat and set aside. Remove babka from the oven, pour the syrup evenly over the loaf. Let bread cool completely in the pan, or at least 15 minutes.