Submitted by Ina Dombrowski. Laugenbrötchen is a German pretzel bun that can be enjoyed all year long. Laugenbrötchen or "pretzel buns" is my favorite thing to bake when I'm missing my relatives in Germany and craving the food. They are fluffy, salty, and go great with any sweet or savory topping you wish to enjoy with them. Guten Appetit!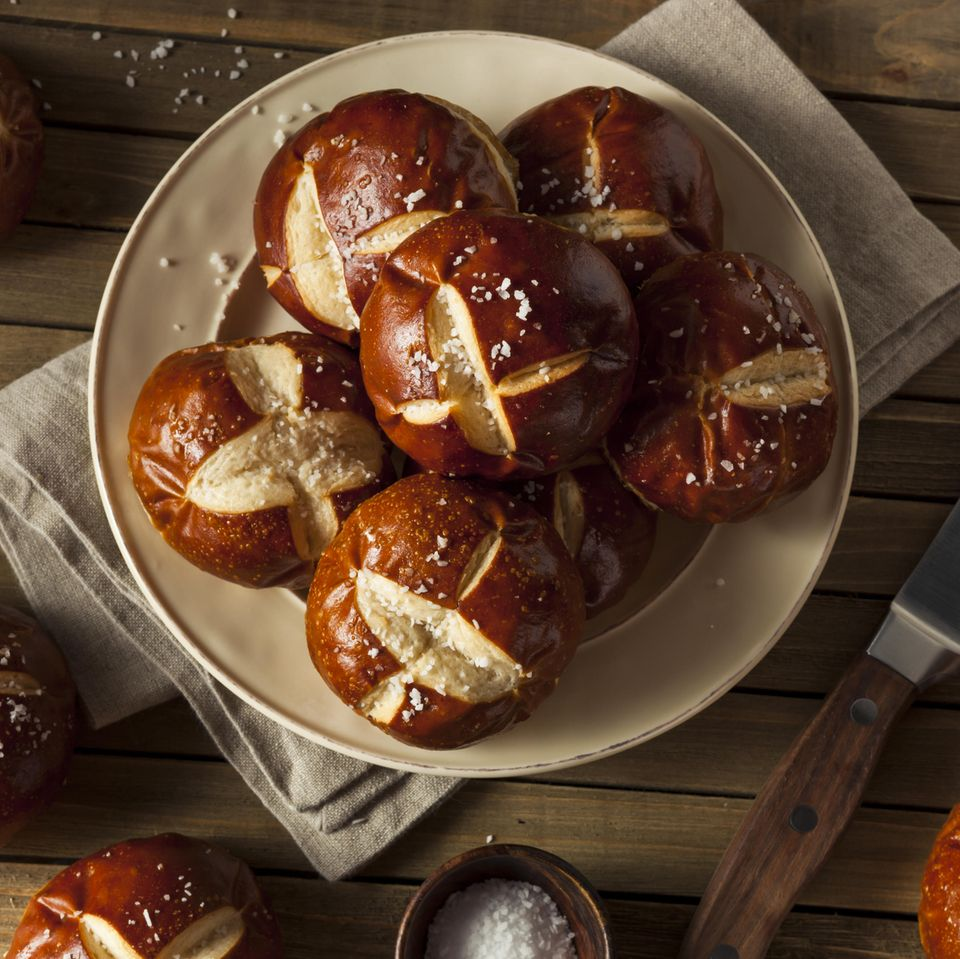 Time: ≈2.5 hours
Yield: 8 buns
Ingredients:
Buns
1 ½ cups warmed water (100-110℉)
2 tbsp brown sugar
2 ½ tsp active dry yeast
5 tbsp butter (unsalted and melted)
2 ½ tsp salt
4 cups unbleached/bread flour
1 tsp canola oil
1 tsp coarse salt (or to taste)
Boiling Solution
1 pot of water
¾ cup baking soda
Procedure:
Combine warm water, sugar, yeast, and butter in a stand mixer bowl. Mix by hand (i.e. with a spoon or spatula) and let the mixture sit for 10 minutes. After 10 minutes the solution should look frothy.
Add salt, and then flour. The flour should be added one cup at a time, mixing with a kneading hook in between. Gradually increase the speed on the mixer until the dough is smooth. 

If the dough is too sticky to handle, add 1 to 2 tablespoons of flour.
Remove the dough from the bowl and form a ball.
Oil a medium bowl with canola oil on all sides. Add the dough and turn it to coat in oil. Cover the bowl with a damp towel and let the dough rise for 1 hour in a warm environment. 
After an hour, the dough should be doubled in size. Remove the dough and divide into 8 equal balls. Place the balls onto a parchment-lined pan and let them rise for another 30 minutes. Preheat the oven at 425℉.
Bring a big pot of water to a boil and slowly add the baking soda.

Be cautious: adding too much baking soda too fast will cause the boiling water to bubble up very quickly.
If you decide to make these buns again, the same baking soda/water solution can be used for a couple of batches of pretzel buns. 

Boil each ball for 30 seconds and make sure to coat each one evenly with water. Place the boiled dough balls back onto the parchment.
With a sharp knife, cut an 'X' onto each ball and sprinkle to taste with coarse sea salt.
Bake the buns at 425℉ for 15 to 20 minutes. The buns should be a deep golden brown color when finished.