Submitted by Madeline Jones-Cressy. This is a recipe my grandmother has enjoyed making for a few decades! It is a good warm breakfast option for these colder months. My grandmother calls them Presque-Isle Pancakes after Maine's Presque-Isle. Click here for a youtube video I made a while ago for fun (It should be 1 egg, not two).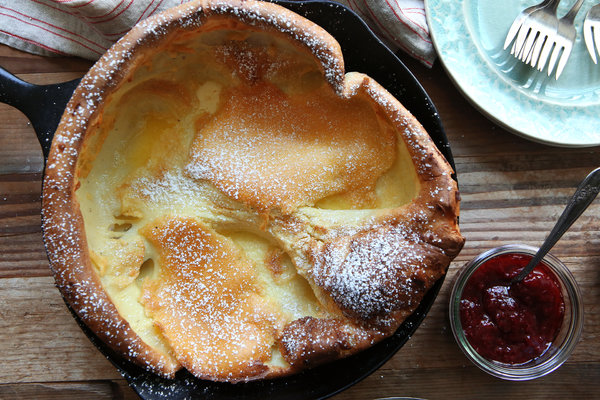 Ingredients:
½ cup flour (white flour rises better than wheat, but both taste good)
½ cup milk (any kind of milk works, I don't generally use cow's milk)
1-2 tablespoons butter (to your taste)
1 egg
Pinch of cinnamon
Directions:
Heat oven to 425 F and melt butter in a pie dish.
Mix all ingredients and then pour into the pie dish with melted butter.
Bake for about 10-15 minutes or until the sides of the pancake rise and turn a golden brown.
Take out of the oven (It will not stay risen for long, so take a picture quickly!) and then serve with applesauce, whipped cream, ice cream, jam, or anything you like on top!