Submitted by Sasha Nyary. My grandmother, whose father was a diplomat in the Hapsburg Court in Vienna in the early 20th century, had to learn to cook. I suspect the church helped with the lessons: Every November we would receive a large package of food from the church, including homemade Hungarian sausages, gyulai kolbazs, which we ate straight out of the fridge (and lived to tell the tale).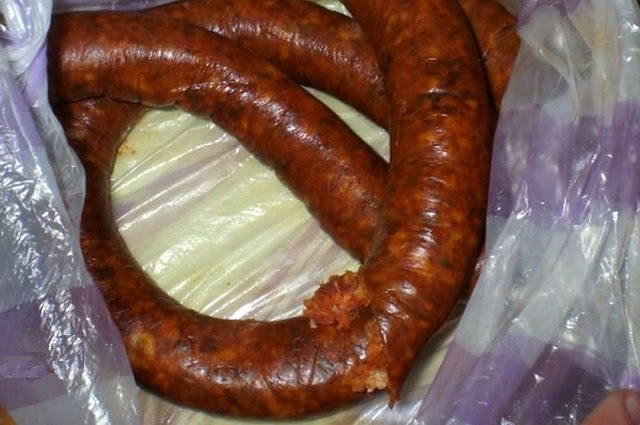 Ingredients:
0 kg or 22 lb pork meat combined with fat from the belly of a pig
1/2 cup + 7 tsp table salt
20 g or 3 Tbsp black pepper ground
or 1 cup sweet Hungarian paprika
60 g or scant 1/2 cup minced garlic
10 g or 1 + 1/2 Tbsp caraway seeds ground
20 g or 1 + 1/2 Tbsp sugar
20 g or 3 Tbsp hot Hungarian paprika
Instructions:
Cut the meat and the fat into chunks.• Place all ingredients in a large container and mix thoroughly.• Cold meat grinds more easily, so keep the meat refrigerated until ready to grind.
Put the seasoned meat through the meat grinder.• Add 2 liters of pleasantly warm water. (The water will evaporate during smoking)• Combine water-spice mixture with meat until thoroughly incorporated.
Remove casings from the refrigerator and knot one end.• Lightly coat the stuffing funnel with cooking spray.• Slip the other end of the casing over the mouth of the funnel.• Continue to push the remainder of the casing up onto the funnel until you have reached the knot.
Begin to force the meat into the casing with one hand while using the other hand to control the thickness of the sausage as it is extruded.• Remember, the sausage will shrink when it cooks, so you want a nice plump sausage. But be careful you don't overstuff or the casing will burst.• Keep extruding until the casing is used up. Tie a knot in that end. You can either leave the sausage in a large coil or twist it at 6-inch intervals to make links.
Rest the sausage refrigerated and covered up at least overnight or up to two days before smoking.• Smoke the sausage until the color turns to a nice red.