Submitted by Pietro Pettinato. Even if it's a typical pie made in Easter, Italian southern people can eat it all year long.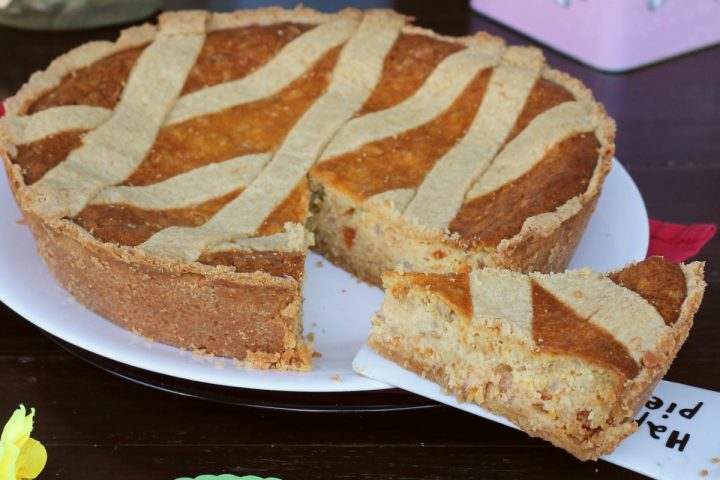 Ingredients for the crust
white flour, 750 grams
white sugar, 200 grams
unsalted butter, 200 grams
4 eggs
1 grated skin of an orange
1 grated skin of a lemon
Ingredients for the filling
1 jar of cooked wheat grain (grano cotto)580 grams
whole milk, 200 grams
ricotta, 700 grams
granulated white sugar, 700 grams
10 eggs
vanilla to taste (1/8 – 1/4 teaspoon)
3 vials (85 mL) of orange blossom water
1 grated skin of a lemon
Tips
The day before you want to eat or serve, cook the grano cotto with the milk, the grated skin of one lemon, and a half-vial of orange blossom water until it becomes like custard. Chill.
On the day you want to eat or serve, prepare the crust first and refrigerate at least one hour. To prepare the crust, combine all the ingredients and mix by hand until it forms a ball (and doesn't stick to your hands).

Instructions
Combine ricotta with white sugar and whisk until creamy.  Then add the chilled grano cotto mixture from the previous day and mix well.  Then add the grated skin of 1 lemon, the rest of the orange blossom water, and the vanilla.  Mix well.  You can do this with a bowl and mixing spoon or use a handheld or stand-up mixer (Pietro prefers to do the last mixing with the big and heavy stand-up Kitchen-Aid mixer so that everything is combined well and the batter is smooth, but many Napoletani also like pastiera with a chunkier consistency such that you can taste the bits).  
Press the chilled crust into your pie pan(s).  Then pour in the filling.  Save some crust to layer strips over the top (if you wish).  The tradition dictates seven strips (4 x 3 on top of pie). 
Cooked at 390/395˚ Fahrenheit for 1 hour or until it's golden on top.  Remove from the oven and let it rest for at least one hour.  Once it's cool, you can dust it with powdered sugar (optional). 
This recipe can yield 2-3 entire pastiere.  They freeze well, and/or you can pour leftover filling/batter into a muffin tin and make muffin/cupcakes with no crust (delicious!)—if you decide to do this, bake at the same temperature until golden on top (about 20 minutes).