Submitted by Sara Bartol. This recipe is neither strictly a holiday recipe nor strictly Slovenian, but it has its roots in the former Yugoslavia and my Slovenian family loves to eat it at any sort of celebration. It's quite labor-intensive, but definitely worth it in my opinion. This recipe makes a huge 4-pound loaf, but you could also divide it into two smaller loaves.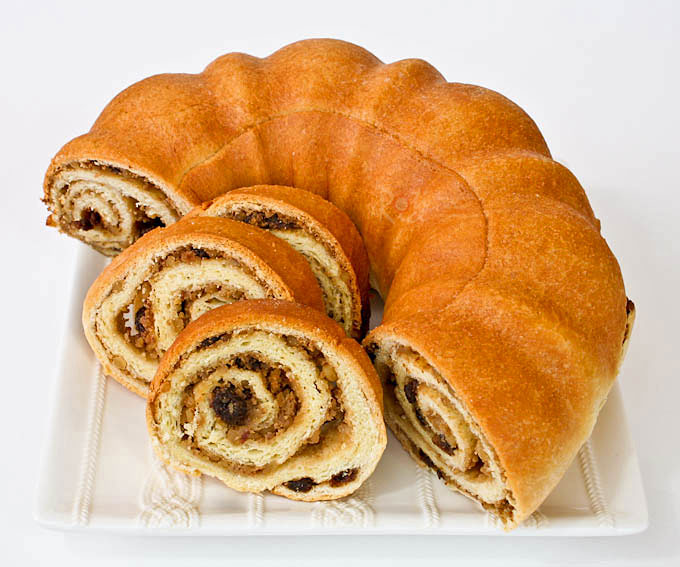 Ingredients:
Bread
1/2 cup granulated sugar
1 teaspoon salt
1/4 cup butter
1 cup hot milk
2 packages of active dry yeast
1/4 cup warm water (105-115F)
2 eggs
4.5 cups unsifted all-purpose flour
Filling
3 eggs
4 cups (1lb) walnuts, finely chopped
1 cup light brown sugar, packed
1/3 cup butter, melted
1 ½ teaspoons cinnamon
1 teaspoon vanilla bean paste or extract
Instructions:
Stir sugar, salt, and ¼ cup butter into hot milk. Cool to lukewarm.
Sprinkle yeast over warm water in a large bowl. Stir to dissolve.
Stir in lukewarm milk mixture.
Add 2 eggs and 2.5 cups flour. Beat with a wooden spoon until smooth.
Gradually beat in the remaining 2 cups flour; knead with hand until the dough is stiff enough to leave the side of the bowl.
Place dough in a lightly greased large bowl. Turn dough over – greased side up – and cover with a towel.
Let rise in a warm place free from drafts, until doubled in size – about an hour.
Make Filling – In a medium bowl beat eggs slightly, add nuts, brown sugar, 1/3 cup melted butter, cinnamon, and vanilla. Stir and set aside.
When the dough has risen, punch down. On a lightly floured surface, turn the dough out, cover with a bowl and let rest for 10 minutes.
Roll the dough out to a 30×20" rectangle.
Spread with filling, to 1 inch from edge.
Starting from the wide side – roll up tightly – jellyroll style. Seal by pinching edges of dough with fingers.
On a large greased cookie sheet or seasoned baking stone, form roll into a large coil.
Let rise in a warm place, covered with a towel, for one hour.
Preheat oven to 350F. Brush with 2 Tablespoons melted butter. Bake 35-40 minutes until golden.
Cool on the wire rack.