Submitted by Jean Janecki. Typically from Argentina. We enjoy these when we gather with friends and family. They can be made with many different fillings, but the beef empanadas are one of the most popular types and one of our family favorites. They can be baked or fried. ¡Buen provecho!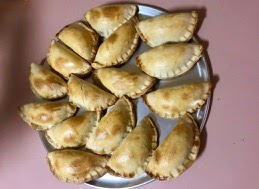 Ingredients:
1 pound ground beef chuck
Olive oil
1 cup diced onion
1 cup red pepper, diced
4 garlic cloves, minced
Salt and pepper
1 teaspoon oregano
1 teaspoon chili powder or cayenne pepper
1 teaspoon of cumin
1 tablespoon pimentón dulce or smoked paprika
Beef broth, as necessary, or use water
¼ cup chopped pitted green olives
½ cup raisins (optional)
2 hard-cooked eggs, chopped
1 egg for egg wash
12 empanada dough discs (or you can make from scratch)

Filling Preparation:
Heat olive oil over medium-low heat. Add onion and cook for 5-7 minutes, stirring often.
Add garlic and diced red pepper. Cook for about 10 minutes, stirring often.
Add cumin, paprika, chili powder, and oregano. Cook for 2 minutes.
Add the ground beef. Season with salt and pepper and cook, crumbling into small pieces until browned.
Stir in broth or water to keep moist.
Remove from heat and transfer mixture to a bowl to cool for 10 minutes. Then, stir in olives, raisins, and hard-boiled eggs.
Cover and chill mixture for at least 1 hour. It's best that the mixture is chilled before filling the empanadas.

Assembly:
Place about 2 tablespoons of filling in the center of each circle, leaving plenty of space around the border. Moisten the edges of the circle with water or beaten egg, then fold the dough over and match the ends together to form a semi-circle.
Pinch the edges together and then seal the ends by crimping them with a fork or pinching and twisting and folding it over.
Place empanadas on a lightly greased baking sheet. Brush with a little bit of egg wash and bake at 375° For 25-30 minutes until golden brown and fully cooked. (You can also fry them if desired)