---
Language learning at Mount Holyoke
In 1876, Mount Holyoke College became the first college in the nation to require the study of a foreign language.
In the early 1950s, we were one of the first to build a language laboratory. Today, we continue integrative approaches beyond the traditional classroom, such as through our affiliation with the 5 Colleges World Languages Program for less-commonly studied languages.
The Language & Culture Commons is the central hub for language learning on campus. Here students access resources, attend cultural events, participate in tutoring, and more in a welcoming environment that celebrates language learning and multiculturalism.
Our Mission
The Language & Culture Commons fosters collaborative innovation in the teaching and learning of languages and cultures throughout the campus. We focus on creative and effective uses of technology to promote language learning both inside and outside the classroom. Our role extends beyond physical resources as we aim to foster community and support.

Where to Find Us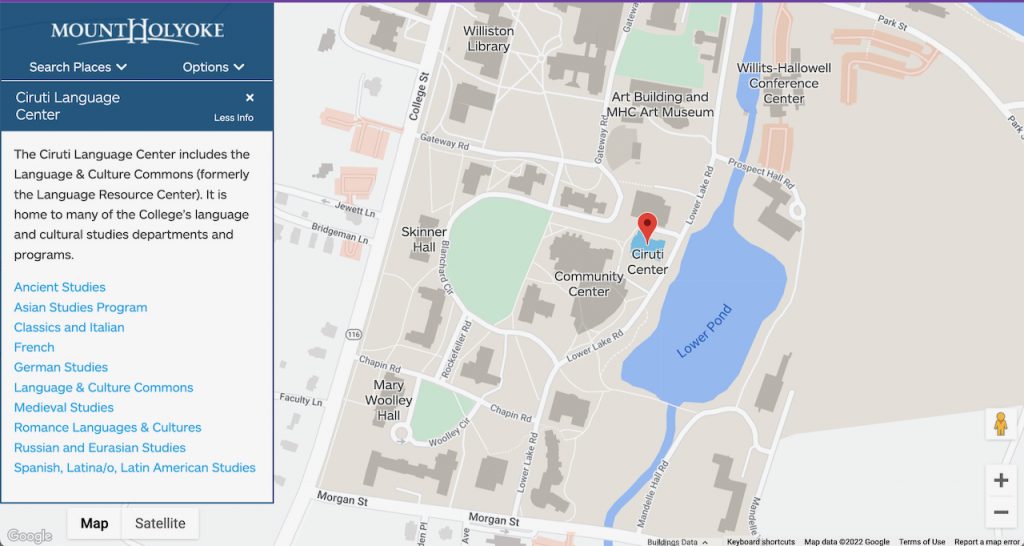 The LCC is located in Room 6 on the lower level of the Ciruti Center for Foreign Languages (campus map).
From Route 116, turn on Park St. (right if coming from South, left if coming from North). Take a right onto Lower Laker Road, then first left over the bridge into Prospect Hall Parking Lot (Visitor parking). From there, walk back over the bridge, cross the street and turn left. The second building on your right is the lower entrance of Ciruti Center for Languages.
Contact
Please call the LCC at (413) 538-3513, email lcc@mtholyoke.edu, or visit Room 6 Ciruti for help.
Open Hours
Monday–Thursday: 8:30 am–11 pm
Friday: 8:30 am–5 pm
Saturday: 1 pm–5 pm
Sunday: 1 pm–11 pm
For holiday periods and finals week, please refer to the LITS hours page for altered schedules.